Do you find yourself sticking to the same familiar veggies at the market because you don't know what those strange looking vegetables are, or what you would ever do with them? Here are some suggestions and insights on how to make the most of your market or CSA's bounty this summer. Step outside your comfort zone and try something new.
Celeriac (Celery Root)
Quite possibly the ugliest of all vegetables, this frog prince of a root is warty, hairy, and often misshapen. However, the cream-colored flesh has a subtle taste of celery and parsley with a hint of anise. Celeriac make an excellent alternative to potatoes and other starches.
Celery on Celery Salad
Creamy Garlic Mashed Celery Root
Celery Root Hash
Celeriac Everything Oven Fries
Rutabaga
Also known as swedes due to their origination in Sweden, this rough and gnarly root is a cross between a turnip and cabbage. Don't be intimidated by their less-than beautiful appearance, just cut away the thick skin to enjoy the nutty and sweet interior.
Whipped Rutabaga Mash with Quick Tomato Confit
Rutabaga with Caramelized Onions and Apples
Greek Style Oven Roasted Rutabaga
Roasted Rutabaga Pasta with Cashew Sauce
Kohlrabi
These alien-looking vegetables are crunchy and starchy like jicama, but with a mildly sweet taste like cabbage. You can enjoy them raw or cooked, and the leaves can be cooked like kale or collards. Be sure to remove the thick outer green layer to reveal the crisp white inside.
Kohlrabi with Pistachios and Sage
Kohlrabi and Zucchini Fritters
Sautéed Kale With Kohlrabi
Shaved Kohlrabi With Apple and Hazelnuts
Parsnips
Similar to carrots, but parsnips are cream colored, earthier, and wonderfully sweet. Sometimes the center core can be a bit fibrous, but softens when thinly sliced or roasted.
Roasted Parsnips with Rosemary
Herbed Whipped Parsnips
Roasted Parsnip Soup
Lemony Parsnip Hummus
Turnips
Whether all white, or with red or purple tops, turnips are often overlooked. These root vegetables are crunchy with a slightly sweet and bitter taste like a radish only denser. The greens are more bitter but a powerhouse of nutrients, toss the leaves in a salad or cook them down like collards.

Braised Turnips with Poppy-Seed Bread Crumbs
Miso-Glazed Turnips
Leek and Turnip Soup
Turnips with Bacon and Pickled Mustard Seeds
Sunchokes
What looks like a ginger root, but tastes like a nutty artichoke and potato mix? Sunchokes! Also known as Jerusalem artichokes, these knobby tubers don't get the attention they deserve. Their versatility lends to delicious raw salads, roasted, or pureed into creamy soups. Be sure to clean them thoroughly before prepping, peeling is optional.
Easy Roasted Sunchokes
Fennel, Sunchokes, and Apple Salad
Crispy Jerusalem Artichokes with Aged Balsamic
Sunchoke Apple Soup
Dandelion Greens
More than just a weed, these green leafy wonders are packed with nutrients. Offering a bitter, peppery kick similar to arugula, dandelion greens can be prepared raw or cooked. Be sure to balance their sharp taste with something sweet or creamy to more easily welcome them to your dinner plate.
Dandelion and White Bean Salad with Mint and Olives
Dandelion Salad With Warm Bacon Dressing
Risotto with Dandelion Greens
Green Goddess Smoothie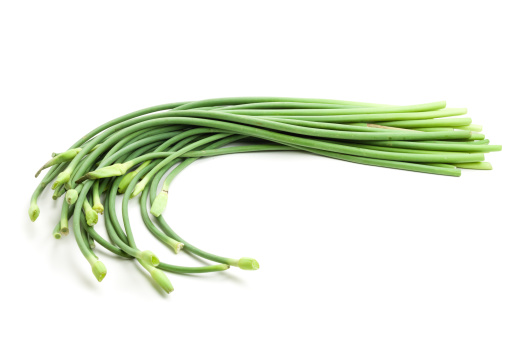 Garlic Scapes
These early summer snakey treasures are the above-ground stalk of a garlic plant and have a mild, fresh garlic flavor. Use them like scallions or grill them whole and serve with almost anything.
Pickled Garlic Scapes
Garlic Scape Pesto
Garlic Scape and Cherry Tomato Pasta
Sugar Snap Peas With Garlic Scapes and Basil